The Service Bar is a support innovation we have implemented in a number of customer sites as an additional feature to their Service Desk.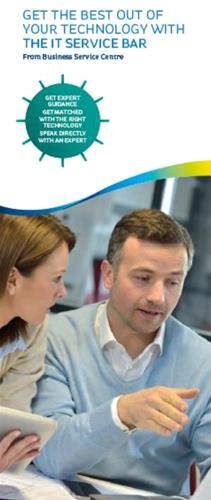 Even when an IT Support team is achieving the KPI's or SLA's assigned there can be a perceived disconnect from the business. Furthermore many users can find it difficult to accurately relay the details of IT problems when logging a call.
The service Bar addresses this challenge and is promoted on one of our major customer's intranet site's as follows:
 "Designed to offer employees an alternative option to phone and email IT support, the service bar offers a friendly walk up service for all your IT questions and needs"
The Service Bar is essentially a pop up service desk which can be located on a client's premises in an area which has a high volume of end user traffic passing, such as the canteen or reception area. The facility allows for end users to approach the stand and engage with an IT support member of staff.
Items handled by the Service Bar typically include:
IT issues and problems that an end user is experiencing
Demonstrating how various business applications function especially on mobile devices.
Advice in terms of IT procurement
Demonstrating new corporate IT devices (Laptops, Desktops, Tablets, Phones etc.)
Presenting any new applications or IT systems being deployed in the business.
The feedback to date from end users and senior management has been extremely positive.
The fact that the user can discuss and demonstrate their problem face to face had helped both the support staff understand the user's needs and end user understand what can be achieved. In some cases, the solution was already in place, the end user just needed to be shown how to access it.
Some clients have made the Service Bar a permanent fixture in their head offices which is manned at times when foot fall is at its peak.

The Service Bar is typically staffed by TW's IT support engineers who are familiar with the client's site or in collaboration with members from the client's IT support teams. The success of the service has resulted in some client's taking the Service Bar on the road to branch locations who have also welcomed the service very positively. 
Generally, the Service Bar is run under a banner devised by the client's company, the branding of which is included on intranet sites, fliers, posters, the tee shirts support staff wear and the physical display stands. TW normally remove any reference to the TW brand and represent the clients ITS department as internal support staff. 
The Service Bar operates as an extension of the service desk and generates tickets for all issues raised, operates in accordance with the ITIL framework but also give a personalised, service by giving face-to face interaction with the customer. In all cases when we have implemented the Service Bar, significant improved customer satisfaction rates were recorded.